Wedding Traditions: Wedding Music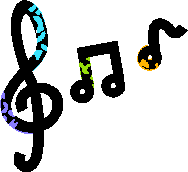 Most typically, American weddings feature Wagner's Here Comes the Bride when the bride enters and Mendelssohn's Wedding March when the bride and groom exit the ceremony room. Also typically popular is Pachabel's Canon in D Minor. We're staying traditional with these as well. We both like the strong recognition and power of the Bride and March pieces, and Elaine really likes Canon.
We'll also have music for the return of the wedding party to the ballroom and for the entrance of the bride and groom.